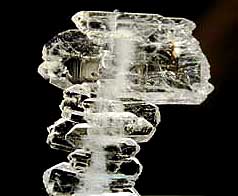 Quartz "Faden" Crystal from France
Welcome to our
LINKS
Page
Here you will find some useful connections to other sites of interest
that will hopefully help you locate what your looking for.
We've included a few organisations of educational importance
as well as clubs and societies which will offer a more
leasurely approach to our interest.
Happy Surfing !!
Click on the organisation or event name for a direct link.
---
A society for our younger budding geologists
(Compulsory for parents!):

For Technical Information and Mineral Data:
and

Interested in the gemstone world?
Gem-A
(Gemmological Association, London)
GIA
(Gemological Institute of America)
SSEF
(Swiss Gemmological Institute)


---